Hundreds march in east London to save GP surgery funding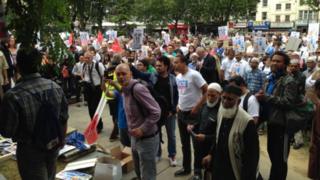 More than 400 people in east London have joined a march protesting against changes they fear could result in local GP surgeries shutting.
Campaigners from Save Our Surgeries East London said removing the "top-up" funding would threaten 22 GP practices in Tower Hamlets, Hackney and Newham.
The march began at Altab Ali Park in Whitechapel at 15:00 BST and ended at London Fields in Hackney.
NHS England said most London GP practices would gain from the changes.
The government has decided to phase out Minimum Practice Income Guarantee (MPIG) nationally over a seven-year period and changes started taking place in April.
The MPIG was introduced in 2004 to support some GP surgeries and was used to top-up the core funding of practices.
Rushanara Ali, MP for Bethnal Green and Bow, said she had received "vague remarks but not concrete action" on how the government plans to help at risk GP surgeries in east London.
"Their funding formula is damaging people's healthcare, it is hurting some of the poorest communities in the country," she added.
Dr Jackie Appleby, who was in the protest, said: "It's a disaster because it means very, very good local practices may be forced to close - there are five in Tower Hamlets, 12 in Hackney and five in Newham - that are due to close and hundreds and thousands of patients will be without a GP."
The result, she added, will be that "patients will then have to default and go to A&E to get their primary care".
Another GP Dr Naomi Beer said the "wholesale re-modelling" would see core services such as these "sold off to the highest bidder or closed altogether".
An NHS England spokesman said the funding changes would "help make GP funding more equitable, and the majority of practices in London will gain as a result"
"However, we do understand the challenges that some London GPs are facing as a result of the changes.
"That is why we have met with some practices and are working with the Office of London CCGs and Local Medical Committees from across the capital to consider what arrangements might be put in place to support those affected, and we are continuing to look at other ways we can help going forward."