Labour wins two seats in Tower Hamlets by-election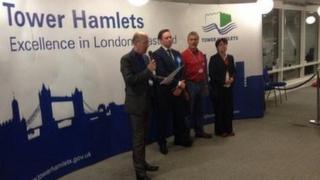 Labour has won two seats in a by-election in Tower Hamlets, meaning no one party has overall control of the council.
The Conservatives also won one seat in the Blackwall and Cubitt Town ward in the east London borough.
The election was delayed until 3 July following the death of candidate Hifzur Rahman earlier this year.
In total, 45 councillors have been elected, 22 from Labour, five for the Tories and 18 for Tower Hamlets First.
Vacant seats
The three vacant seats were won by Christopher James Chapman, from the Conservatives, and Dave Chesterton and Candida Ronald, both from the Labour party.
BBC London's 94.9's Richard Main said turnout at the poll was about 31% and he had seen 12 officers overseeing the count.
A review published by the Electoral Commission into vote counting for the local and European elections on 22 May found the management of the count was "inadequate".
Poor staffing arrangements resulted in the count taking almost 24 hours, rather than six, the review said.
Earlier this month, a petition calling for the mayoral election in Tower Hamlets to be held again was submitted to the High Court by the Red Flag Anti-Corruption Party.
The group accused mayor Lutfur Rahman's party of electoral fraud, corruption and political smears. The mayor has consistently denied any wrongdoing.
Tower Hamlets council has also launched legal action over a probe ordered by Communities and Local Government Secretary Eric Pickles's department into allegations of fraud and mismanagement.
Mr Rahman wrote to Mr Pickles on 2 July saying the council had filed papers at the High Court seeking a judicial review of the decision to look into the borough following a BBC Panorama investigation,