Gambling addict sues Ritz casino after losing £2m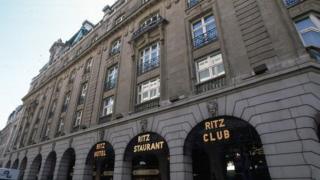 A gambling addict is suing the Ritz casino after betting and losing £2m in one evening.
Nora Al-Daher, whose husband is the foreign minister of Oman, told the High Court someone should have stopped her.
Ms Al-Daher had already suffered substantial losses at other casinos earlier the same day, in April 2012.
Her court action comes after the Ritz sued her for a debt of £1m, alleging that some of the cheques she handed over that night had not been honoured.
The court was told that Mrs Al-Daher had made it clear when she arrived at the Ritz that she was a gambling addict, had lost money and did not want to play.
'Good payment record'
Mrs Al-Daher lost £2m within hours and said the casino should have refused to give her extra credit but instead took advantage of her.
She told the court staff stood behind her encouraging her and increased her facility when she reached her credit limit.
The Ritz rejected the accusations, saying it was owed £1m because cheques she gave them had not been not honoured.
The casino's barrister, Clive Freedman QC, told the court that nine months after she lost the money, Mrs Al-Daher had paid half her debt without making a complaint.
The chief executive of the Ritz, Roger Maris, said it was not unusual for high-stakes gamblers to have their cheque-cashing facility extended.
He said Mrs Al-Daher's previous history of paying her debts had been very good.
The case continues.