Fulham Boys School will open a year later than planned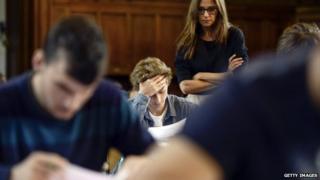 The opening of one of the government's flagship free schools in west London will be delayed due to doubts over where it will be permanently located.
The government has asked the Fulham Boys School (FBS) to defer its opening this autumn, placing almost 100 school places in doubt.
The secondary school has challenged the decision, saying it is not in the best interests of its pupils.
The school had aimed to have 800 boys attending by 2020.
Alex Wade, chairman of governors at the school, said prospective pupils have already attended "transition days" to help them settle in but that they now face a "frantic scramble" to find last-minute places elsewhere.
Officials at the school said the Department for Education (DfE), which funds the Church of England school, and Hammersmith & Fulham Council have had enough time over the past two years to find a permanent home for the school.
Mr Wade said: "It's imperative that this political misunderstanding is cleared up as a priority, because caught in the middle are nearly 100 boys and their families, whose interests are being ignored."
A spokesman for the DfE confirmed the school would not be opening as planned in September,
He added: "We will work with the local authority to help parents find other secondary schools for their children, and with the proposers behind Fulham Boys School to work towards a successful opening."