Gay bus advert ban probed by High Court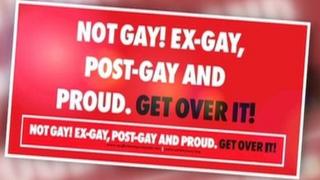 A High Court judge is considering whether Boris Johnson acted improperly in banning a bus advert suggesting people could "get over" homosexuality.
The Christian charity Core Issues Trust (CIT) has accused the London mayor of "currying favour with gay lobby groups".
The Mayor's office has rejected the CIT's claims.
The probe was ordered by the Court of Appeal after it said an earlier ruling on the issue was flawed.
The posters produced by the Christian charity reading, "Not Gay! Ex-Gay, Post-Gay and Proud. Get over it!" were designed in response to adverts by gay rights group Stonewall which stated: "Some people are gay. Get over it!"
'Gay vote'
The charity's advert led to protests and was condemned as offensive by gay rights campaigners.
The advert was banned on 12 April 2012, the day before the mayor addressed an election rally organised by gay rights charity Stonewall.
CIT said that Mr Johnson intervened and obtained the ban ahead of the 2012 mayoral elections to secure the gay vote.
Andrea Williams, chief executive of the Christian Legal Centre, which is supporting CIT's legal action, described the ban as a "suppression of free speech".
In March 2013, High Court judge Mrs Justice Lang rejected the charity's allegations, ruling the ban was lawful.
However the CIT obtained access to emails through a Freedom of Information request to the Greater London Authority.
Paul Diamond, for CIT, submitted emails to the judge which the charity says prove that the Mayor had acted for "the naked political purpose of currying favour with gay lobbying groups" and to secure re-election.
Nigel Pleming QC, appearing for both the Mayor and Transport for London (TfL), rejected CIT's accusations.
He said the decision not to permit the adverts was made by Vernon Everitt, TfL's managing director for marketing and communications, not Mr Johnson.
Following the two-day hearing at London's High Court, the judge said she would need time to consider her verdict.