Cherry Groce inquest: Inspector's 'shock' at shooting woman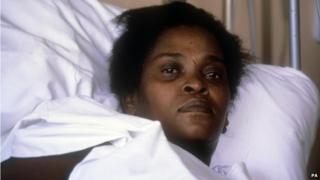 A police inspector has told an inquest of his shock at mistakenly shooting a mother during a raid that sparked the 1985 Brixton riots.
Dorothy "Cherry" Groce was shot in the shoulder and left paralysed from the waist down after the raid by officers looking for her son, and died in 2011.
Insp Douglas Lovelock told Southwark Coroner's Court that after shooting Mrs Groce he thought: "I hope to Christ it is shock and I have missed."
The inquest is listed for eight days.
In a statement taken after the shooting and read to the jury, Mrs Groce said she asked if she would die and was told by an officer: "No, it's just like having a baby".
In the statement, she said that as she lay bleeding, police continued to shout at her.
They asked her if she knew where one of her sons, Michael was, as they were searching for him in connection with an armed robbery.
No charges over the robbery or subsequent riot were brought against him.
The raid took place in the early hours of 28 September, 1985.
The court heard how Mrs Groce thought the rushing feet she heard in her home was her daughter having an epileptic fit.
But when she checked on her, several police officers barged into her bedroom, knocked her to the side and one shot her.
"He was aiming the gun at me. He didn't say anything."
'Unholstered revolvers'
Insp Lovelock described to the jury how a dog handler smashed down the front door and he went up to the hallway, shouting "armed police" until he reached a door that was ajar.
He said: "I kicked it and went in. We had already unholstered our revolvers and I went in in a crouch position and almost immediately there was this figure upon me.
"I saw the flash and the next thing is Mrs Groce is on the ground.
"I dropped down to her eyes thinking 'I hope to Christ it is shock and I have missed'."
The officer, who has now retired, said he checked to see if Mrs Groce was hurt.
"I was trying desperately to find out if she was injured and I felt some sort of dampness underneath her back," he said.
"And quite frankly, from that moment on, I was a waste. I was in a daze."
The inquest jury is looking at the planning of the police raid and how the events of that day may have contributed to Mrs Groce's death.
The court heard that officers had little information about the flat, and had no idea it was Mrs Groce's family home, but Mr Lovelock said race relations in Brixton at the time meant intelligence-gathering would have been almost impossible.
Mr Lovelock stood trial in 1987 charged with inflicting unlawful and malicious grievous bodily harm, and was acquitted.