East London's £600m bridge designs unveiled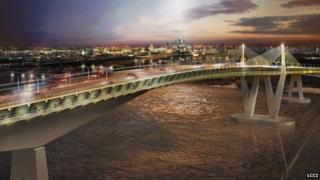 Plans have been unveiled for a new £600m cycle-friendly bridge to span the river Thames in east London.
The designs were commissioned by the London Chamber of Commerce and Industry (LCCI) in its campaign to improve connections in the area.
The LCCI said east London has only two fixed river crossings compared to 22 west of Tower Bridge.
The design takes account of planes taking off from nearby City Airport and the need for ships to sail underneath.
'Gap in infrastructure'
The crossing, named Bridge East London, would include a segregated cycle lane and was designed by architects HOK and design consultants Arup.
The LCCI said almost half London's population lives east of Tower Bridge but no new road capacity has been developed to the east of it since the opening of the southbound Blackwall tunnel in 1967.
It said the £600m price tag, compared to £150m for a new ferry, was justified because a bridge would attract more private sector funding and could also bring in money through tolling.
'More traffic'
However, Darren Johnson, Green Party member on the London Assembly, said the proposed bridge would not help the local economy but create more congestion and pollution.
Val Shawcross, London Assembly member and transport spokesperson for Labour, backed the scheme, saying it would "boost road capacity, public transport connections and cycling and pedestrian routes".
Transport for London (TfL) said the capital's population is set to grow to 10 million by the early 2030s, and is looking at river crossings in east London in a 10-week public consultation that is due to start on 7 July.
It will consider four options: a new ferry at Woolwich or Gallions reach, or a new bridge at Gallions Reach or Belvedere.
A Boris Johnson spokesperson said: "The mayor has been a strong and vocal supporter for more river crossings in east London and is pushing them ahead as fast as national infrastructure processes allow."