Uriah Gardner jailed for 14 years over Fico Dougan murder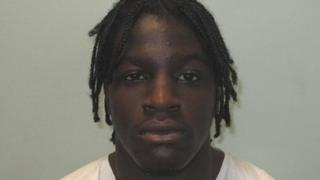 A teenager who stabbed to death a 17-year-old boy in an unprovoked attack has been jailed for 14 years for his murder.
Fico Dougan died after being found with a stab wound to the heart in a house in Ockley Road, Croydon, on 25 September.
Uriah Gardner, 17, from St Augustines Avenue, Croydon, was sentenced at the Old Bailey.
Mr Dougan's mother, Sandra Opoku, said the loss of her son was "heartbreaking".
"Trying to deal with the shock of losing our wonderful, beautiful son has been heartbreaking and very, very distressful for all of us," she said.
"The initial shock of it all has now given way to the reality that Fico has been killed by someone he did not offend and had no chance to defend himself."
Gardner was found guilty of Mr Dougan's murder on 20 May.
'Calculated murder'
Gardner was in the lounge of the house in Croydon listening to music on his headphones when Mr Dougan arrived to visit his girlfriend who was also there, police said.
The victim joined the group, however Gardner took a knife from the kitchen and attacked Mr Dougan who was sitting on the sofa watching television, officers said.
Police said that Mr Dougan's girlfriend tried to shield him from the attack. He was taken to a south London hospital where he died soon after.
Gardner was arrested at his home where officers found him trying to burn his clothes to destroy the evidence. The murder weapon was also found in a drain close to the scene of the attack.
Det Insp John Finch, from the Met Police's homicide and major crime command, said: "Fico was a talented young man with a bright future a head of him.
"Gardner's attack on him was unprovoked and he stood no chance of defending himself.
"His actions following the murder were calculated and he disposed of the weapon and set about trying to destroy evidence."