Inner London pupils achieve better results says study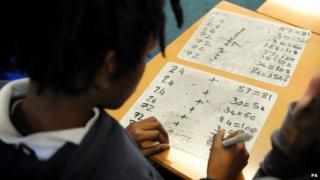 Schoolchildren from disadvantaged backgrounds in London are achieving better academic results than those in the rest of England, says a new study.
The Institute for Fiscal Studies (IFS) found 54% of inner London pupils who were eligible for free school meals, achieved five or more GCSEs at A* to C.
This compares with 47% in outer London and 30-35% in the rest of the country.
IFS put this down to the multi-cultural mix of children attending the schools compared with other areas.
It also said there were "rapid improvements" in the capital's primary schools in the late 1990s to early 2000s.
Primary success
Disadvantaged pupils in inner London were also more likely to achieve high results, with 13% getting eight or more A* to B grades, including English and maths, compared with 3-6% in regions outside of London.
The study found this could be linked to higher levels of participation in post-compulsory education.
Report author and IFS programme director Luke Sibieta believes specific policies focused on London secondary schools may not be the main reason for this improvement.
He described the higher level and improved performance of disadvantaged pupils in secondary schools in London over the past decade as "a remarkable success story" adding that "success at primary schools is clearly crucial".
The study was ordered by the Social Mobility and Child Poverty Commission, with support from the Economic and Social Research Council through the Centre for the Microeconomic Analysis of Public Policy at IFS.