US cash treasure hunt comes to London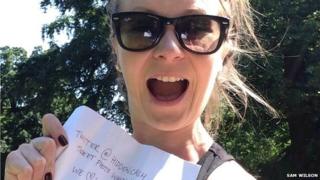 Londoners have cracked the clues and found envelopes filled with money as an American treasure hunt has arrived in the UK.
Some 20 envelopes containing £50 each were hidden in Kensington Gardens.
Clues were posted on Twitter by millionaire Jason Buzi, who first started hiding money in San Francisco.
Sam Wilson from Plaistow, east London, was the first to find an envelope. She said she figured out the first clue - where green meets blue - last night.
"I thought why mention colours when it's London? So then I thought of the Tube and that's where the Piccadilly Line meets the District Line," she said.
The second clue, an "unincorporated town in California shares the same name", confirmed the location as Kensington.
The final clue, released on Saturday morning, was the "scene of a well-known children's story" - Peter Pan.
Ms Wilson got to the gardens at 10:00 BST after deciding with her mother last night, to have a go at finding it because the "worst case scenario would be we would spend a day in the park in the sunshine".
"There were a few people here, but everyone was looking in obvious places. I was just walking past a tree stump and thought that would be a good place to hide it and there it was," she said.
She added she would spend the money in Las Vegas where she is going on holiday with her mother to celebrate her 60th birthday.
"It's a really good idea. A lot of people say he should give money straight to charity but he does that already so that's not what this is about; it's a fun game.
"There were loads of people running around in the sunshine and there was a sense of community and adventure."
Rob Bolam, 32 from Walthamstow, also found an envelope.
"Everyone was in the spirit together. I found it quite early on but then as I just carried on wandering around the area, everyone seemed to be enjoying themselves, all hunting and chatting to each other.
"Getting strangers to talk to each other in London is a challenge sometimes."