Met Police warn over two planned raves in London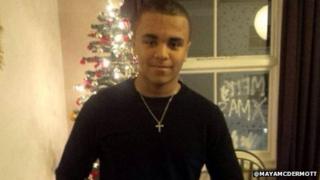 Two raves are being planned in London over social media this weekend, the Metropolitan Police have said.
Police said they were trying to track down people who are advertising and organising the events, due to take place in Wandsworth and Erith.
The action comes after 15-year-old Rio Andrew died after attending a rave at a disused sorting office in East Croydon, south London, last weekend.
The Met said these parties were "not licensed and they are often dangerous".
More than 1,300 people attended the rave at the disused sorting office on Cherry Orchard Road, where Rio died after falling ill.
Sixteen people were arrested over the rave, including nine during the event.
Disorder broke out, the window of a police van was smashed and missiles were thrown at officers after police tried to stop more people from getting close to the building.
The Met Police began an internal review after it emerged officers had received intelligence about the Croydon rave weeks before it took place.
On the planned raves, Commander Simon Letchford said: "We are carrying out investigations to track down the people who are advertising and organising these raves this weekend.
"The people that organise them need to be aware that they are responsible for people's safety when they plan and put on raves.
"Parties of this nature are not licensed and they are often dangerous. No security staff, no medics, no concerns about the number of people present and unsafe properties all add up to a really dangerous place for people to be."
It is not believed at this stage that the planned raves are linked to the event in Croydon.
"We will have a policing operation in place in both Wandsworth and Erith over the weekend," Mr Letchford added.