Third of Londoners may have to 'move over housing costs'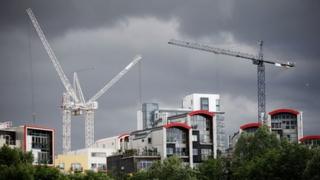 About 34% of London residents believe they may have to "move out of their local area" in future due to the high cost of housing, a poll has revealed.
The Chartered Institute of Housing and Ipsos Mori survey also found that 68% of respondents believed it was harder for their generation to buy or rent.
And 44% of Londoners who responded felt politicians were not paying a lot of attention to the issue of housing.
The London Mayor's office said it was working to boost housing supply.
The results of the online survey, which took the views of 2,000 adults in the UK aged between 16 and 75, were published ahead of the CIH conference.
The poll found 30% of Londoners polled were concerned about being able to pay their rent or mortgage, compared to the UK average of 24% and about 36% said the worries were putting them under "a great deal or a fair amount of stress".
CIH chief executive Grainia Long said: "It is deeply disturbing that a third of Londoners think they might have to leave their local area because the cost of housing is too high.
"Many areas are well on the way to becoming out of bounds to all but the very wealthiest households - if things."
Accelerate development
The Labour group in the London Assembly said the government needed to lift the remaining borrowing cap on councils to enable them to build new homes.
Housing spokesperson for the group, Tom Copley, added: "I'm supporting proposals to make renting in London more stable and affordable by introducing three-year tenancies as standard with caps on annual rent increases, and a ban on lettings agency fees for tenants."
Earlier this month the Treasury announced a £400m scheme to build up to 50,000 new homes on 20 brownfield sites in the capital.
Deputy Mayor for Housing and Land, Richard Blakeway, said: "The mayor's housing strategy sets out a number of innovative measures to address structural challenges in the market, building on his 100,000 low cost homes programme, attracting new forms of investment to housing, and improving standards in the private rented sector."