Ian Wright's family robbed at knifepoint at home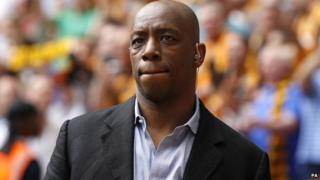 Former England striker Ian Wright has returned home from the World Cup in Brazil after his wife and children were threatened at knifepoint by burglars.
Four men armed with knives forced their way into his north-west London home and held his wife and children before making off with personal possessions.
The 50-year-old former Arsenal star, who has been working for ITV in Brazil, tweeted: "You won't get away with it."
The Metropolitan Police said it was investigating an aggravated burglary.
Following his return the football pundit told reporters: "All I want to say, really, is that my missus, my girls, everyone's safe.
"The police are trying to get on doing what they are doing."
Speaking about his wife, he said: "She's feeling good that I am back."
Earlier Steve Kutner, Wright's agent, said: "It was a terrifying ordeal. They marched Ian's wife from room to room."
A spokeswoman for Ian Wright said: "Nancy [his wife] is really shaken up. Their kids are so young that hopefully they aren't going to read into it too much.
"They are all physically OK - Nancy and the kids."
'Very frightening'
Wright's neighbours expressed their shock at the robbery.
Next-door neighbour Marianne Collinge said: "They are very unpretentious people. They are one of us and I'm terribly sorry for them, it's awful."
Another neighbour, Chris Martin, said: "Ian is a neighbour and a decent family man. He's been living here several years and everyone around here respects his privacy."
A Metropolitan Police spokesman said: "We are investigating an aggravated burglary at an address in north-west London after we were called at 9.20pm last night.
"The four suspects are described as black men, aged between 18-25. They are said to have spoken with London accents and were wearing dark clothing and hoodies obscuring their faces."
Det Ch Insp Mick Gornall said: "Fortunately no-one was injured during the burglary, but it is still very frightening to have people force their way into your home and threaten you."
Officers are reviewing CCTV footage.