Chancery Lane Tube commuters panic after smoke pours from bag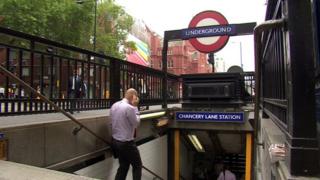 Passengers ran "screaming" from a Tube station after a passenger's electrical device overheated, causing sparks and smoke to come out of his bag.
The commuters ran out of Chancery Lane station in central London while some were in tears.
A British Transport Police spokesman said the man who owned the device immediately got off and spoke to staff.
He said no one was hurt and the incident on Thursday morning is not being treated as suspicious.
Jez Smith wrote on Twitter: "Tube: Smoke and sparks coming from canister in carriage at Chancery Lane. Crying girlfriend thought she would die."
Alex Townley tweeted: "Unpleasant start to the morning at Chancery Lane station this morning as everyone ran off the train screaming about smoke leaking from a bag."
He later added: "I heard it turned into a full on bomb scare - the owner of the bag threw it down the platform I heard?! Madness."
A British Transport Police spokesman said: "It looks like a battery in a passenger's device which he had in his bag has overheated, and that is what caused the sparks and smoke to come from his bag.
"We don't know what the device is, if it is a laptop or a computer."