London City Airport evacuated after passenger hit fire alarm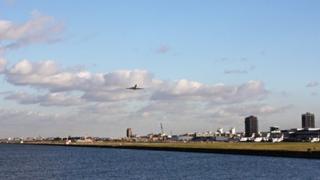 An airport was evacuated after a passenger who was running late for his flight deliberately set off a fire alarm in an attempt to delay his plane.
The man triggered the alarm at London City Airport to stop a British Airways flight to Frankfurt.
The alarm was triggered at about 14:45 BST on Tuesday, it has emerged. People were evacuated from the airport for about 15 minutes.
The culprit was questioned and released by police officers.
An airport spokesman said: "Once an aircraft has started its engines there's little you can do to get onboard if you're late, short of clinging to the undercarriage - which we obviously wouldn't recommend.
"Lovely though Frankfurt is, the person who triggered the alarm will probably, with hindsight, wish they had taken it on the chin and rebooked as the matter was taken up by police."
Asked whether the passenger had managed to make his flight, the airport's Twitter feed said: "They were questioned and released, we believe they continued their journey with a much longer delay as a result."
The Met said officers attended but it was down to the airport to decide what action to take and the man was not arrested.