Woman brain damaged after ambulance delay awarded £5m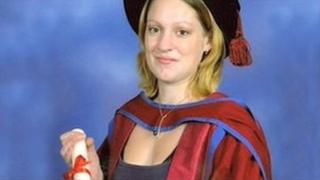 A scientist who was left brain damaged after waiting more than 100 minutes for an ambulance has been awarded a compensation package worth £5m.
Caren Paterson, 36, collapsed at her home in Islington, north London, in 2007, and her boyfriend called 999.
But the address was flagged as high risk and the crew waited just 100m away waiting for a police escort.
The London Ambulance Service offered "sincere apologies" to Ms Paterson, who worked as a genetic scientist.
Confusion and disorientation
She eventually suffered a cardiac arrest, five minutes before police and an ambulance team arrived.
It left Ms Paterson, who worked at King's College London, with chronic amnesia, confusion and disorientation with the result she will never work again and needs 24-hour care for the rest of her life.
Lawyer John Davis, representing the family, said the delay was because the address in Hargrave Road was inexplicably flagged as being on the "high risk" register, and the ambulance crew was told to wait for the police.
There were no officers available at the time and, despite two more 999 calls, the emergency medical team waited.
Successful and ambitious
The settlement against the London Ambulance Service NHS Trust consists of a £1.4m lump sum plus lifelong annual payments.
Caren Paterson's mother Eleanor, from Warkworth, Northumberland, said after the hearing at the High Court: "My daughter was a successful and ambitious scientist but it is so distressing that all of her aspirations and ambitions have been taken away from her because of her brain injury.
"The thought of an ambulance crew sitting waiting round the corner while my daughter lay in her flat as her condition went from serious to life-threatening, causing irreparable damage to her brain, is still shocking and I hope no-one ever has to go through what we have."
Philip Havers QC, for the trust, expressed its "sincere apologies" to the family for the shortcomings which had occurred and said it hoped and believed that the damages would go a long way to providing for Ms Paterson's needs in the future.