Tottenham Reverend who helped in riots aftermath on Birthday Honours list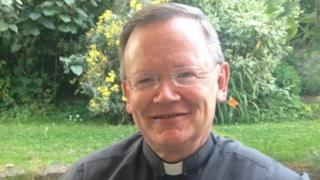 A vicar who helped build community relations in the aftermath of the 2011 riots has been appointed an MBE.
The Reverend John Wood, from St Ann's Church in Tottenham, has been honoured for outreach projects run within the London borough of Haringey.
He said the award "represents a massive amount of work in a huge team".
Businesswoman Jessica Huie, who created a greeting card company to promote self-esteem among ethnic minorities, has also become an MBE.
Mr Wood said he was happy to be a part of the Queen's Birthday Honours list, but insisted it was group effort.
"I feel ambivalent about it as there are a lot of people who do not get them who are more qualified than me," he said.
"We were doing this before the riots... and we are going to keep doing what we are doing and continue to make this a great place to live."
The church runs a counselling project in 27 schools in the borough and provides pastoral support to the police.
Diverse cards
Ms Huie, from London, created Color [sic] Blind Cards in 2006 after her daughter Monet said she did not like her hair.
"I went out looking for a birthday card for her with people with afro hair on it, and I realised there wasn't anything, and I decided to do something about it," said the 34-year-old.
The company became the first to supply mainstream retailers with cards celebrating ethnic diversity.
Ms Huie said it was "wonderful" to receive an MBE for services to entrepreneurship.
Ronald and Avril Head, from South Croydon, were also among a number of foster parents to receive honours in recognition of their work giving a home to children in need of stability.
The couple, who have fostered 138 children, were each appointed an MBE.
Mr Head, 64, said: "It is simply a way of life for us. We don't see it as a form of work. They are our whole life, the children."