Studs 'to stop homeless' removed from outside Southwark flats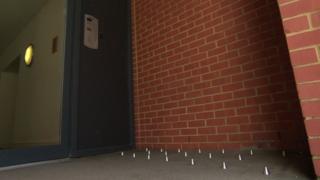 Studs meant to repel rough sleepers from a block of flats have been removed, a London council has said.
Residents at the private flats on Southwark Bridge Road, south London, said they had appeared a few weeks ago after someone had been sleeping rough.
More than 120,000 people had signed a petition calling for their removal.
Southwark Council said they were "pleased" the spikes had been removed. The company that manages the flats has not commented.
'Anti-homeless'
Councillor Peter John said: "People sleeping rough should be treated with dignity and respect, and not with spikes.
"While spikes may stop someone sleeping outside your home, it does not help someone off the streets."
He added that the council was working with charities to support the homeless.
On Thursday supermarket chain Tesco said it would remove spikes from outside a central London store after protestors said they were "anti-homeless".
The company said the studs on a ledge outside the convenience store in Regent Street were installed to deter anti-social behaviour like smoking and drinking, which intimidated customers.
A spokesperson said: "These studs have caused concern for some who have interpreted them as an anti-homeless measure so we have decided to remove them to address this concern."