Mappin and Webb raid: Blonde-wigged man in Cartier watch smash and grab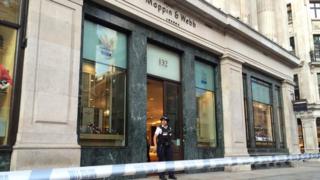 Cartier watches worth £80,000 were taken from a central London jewellery store during an armed smash and grab raid, Metropolitan Police have said.
Three people targeted Mappin and Webb jewellers in Regent Street on Thursday just before 17:50 BST.
A man in a black suit and black trilby, wearing a curly blonde wig, walked into the store before pointing a handgun at the guard.
Two hooded and masked men followed with claw hammers and smashed the cabinets.
Police said the men were wearing caps, face coverings and blue jeans. One of them broke into the Cartier cabinet and put several watches inside a holdall.
The three suspects then fled from the scene on foot. Officers are "unsure" if the suspects had a vehicle nearby.
The man in the trilby, which had a distinctive white band, was last seen in Beak Street while his hooded accomplices were seen running along Kingly Street.
Det Insp Scott Hartley said: "At the moment this is quite a unique robbery on a central London jeweller's shop.
"The main lines of investigation are retrieval of forensic evidence and we are doing a big CCTV trawl and talking to witnesses."