Up to 50,000 London homes to be built in brownfield scheme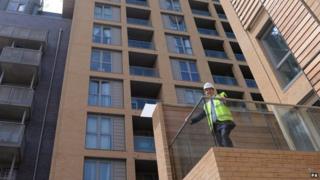 Up to 50,000 new London homes are to be built on 20 brownfield sites, in a £400m scheme announced by the Treasury.
The homes will be built on "housing zones", where planning restrictions are removed to get homes built quickly.
The new zones are in line with a shake-up of planning rules to support house building announced by the chancellor at London's Mansion House on Thursday.
Labour said it is "too little too late" as Mayor Boris Johnson has built only a third of 63,000 homes needed annually.
In the past, Mr Johnson has been criticised by opposition parties for not building enough affordable homes. These new homes will include affordable properties.
In February, it emerged there would be a £120m underspend on building affordable homes, from a budget of £283m for 2013-14, which the mayor's critics say indicate that he is failing to meet his target to build 100,000 affordable homes over his two terms, which ends in May 2016.
The mayor's office said since he was elected to the office in 2008, 75,000 affordable homes have been built and he is still on target.
Additional powers for mayor
The chancellor and mayor launched the scheme at Meridian Water, an 85 hectare former industrial site in Enfield Meridian Water in Enfield, north London, where 5,000 homes, a new school and community facilities are to be built.
Tottenham Hale in north London, Southall in west London, South Poplar in east London and Winstanley and York Road in Wandsworth, south-west London, are other areas earmarked as potentially suitable for building.
The housing zones scheme works by councils identifying brownfield land which could be used for development, removing certain planning restrictions across it and partnering with a developer to build new homes.
The removal of particular planning constraints in these zones will significantly accelerate construction, the government hopes.
In November, the mayor's Housing Strategy set out plans for 10 potential housing zones.
The announcement will double that as central government and the Greater London Authority will each offer £200m for 20 zones.
To speed up the building of these homes, the government will also grant the mayor additional powers, in the form of Mayoral Development Orders, to remove planning obstacles.
Mr Osborne said: "The new housing zones will be a shot in the arm for house building in London, creating tens of thousands of new homes for hardworking families across the capital."
'Too little, too late'
Speaking to BBC London 94.9, Mr Johnson acknowledged the scheme was a "just a fraction of what needs to be done".
"Total demand in London is probably around 49,000 homes a year and we think we can supply a maximum of 42,000 homes and we need to go a bit higher and this effort is part of that," he said.
He said about 400,000 homes could be built on 33 brownfield sites in London over the next decade.
"When you get up to those numbers you are starting to get near the sort of numbers you need to crack the problem," he said.
Labour London Assembly member Tom Copley said the scheme was "interesting", but the homes need to be "genuinely affordable" and of good quality.
"Boris Johnson has utterly failed Londoners on house building over the past six years of his mayoralty. He is currently only building a third of the 63,000 new homes we need in London each year.
"This is too little, too late from Boris. He's been in office for six years now, but he is only building a third of the homes London needs to keep pace with our growing city."
The government will also be creating 10 new housing zones outside London, which will be backed by up to £200m of central government loans for infrastructure and clean-up work on the sites.