Metropolitan Police given permission to buy water cannon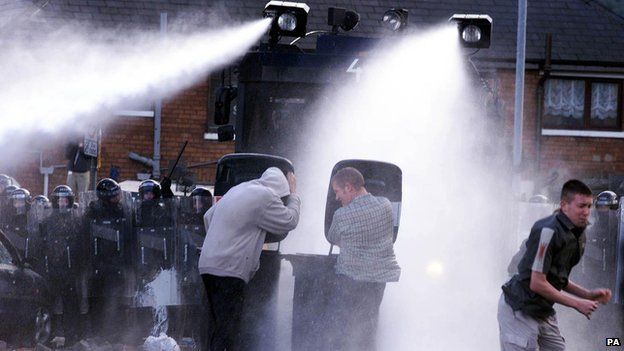 Approval has been given for the Metropolitan Police to purchase three water cannon for London.
Stephen Greenhalgh, deputy mayor for policing and crime, authorised the force to buy the cannon from the German Federal Police.
The mayor's office said: "By purchasing them now we are able to save over £2.3m compared to buying new devices."
The water cannon will not be deployed until the home secretary authorises their use in England and Wales.
In a statement, the mayor's office said purchasing the cannon now for just over £218,000, before Theresa May approves them, meant they could be bought at a "considerably reduced rate".
The cannon will be purchased for £30,000 each, as opposed to the cost of a single new one at £870,000.
An additional cost of £127,000 will also be incurred to make them "fit for purpose" for use in London.
A Home Office spokesman said: "We are keen to ensure that the police have the tools and powers they need to maintain order on our streets."
It said Chief Constable David Shaw, as the national policing lead, had written to the home secretary to request water cannon be authorised for use by the police in England and Wales and Ms May was considering the request.
The Mayor's Office for Policing and Crime (MOPAC) said that each cannon had a life-expectancy of five years, or longer with good maintenance, and if approval was not given by Ms May, then they could be re-sold.
The Metropolitan Police has welcomed the move.
A spokesman said: "Following learning from the riots of 2011, the [Met] requested that water cannon be made available to address a gap in public order tactics, allowing us to more effectively and safely tackle the most extreme disorder.
"We believe that as a tactic they would be rarely seen and rarely used on our streets."
In its briefing document MOPAC said its decision to purchase the cannon now was "driven by the enhanced risk" that they would be sold to another police authority.
It added that it also meant they could be in place for the summer, when "although there are no expectations of violence, such tools are most likely to be needed".
The purchase is not without criticism. Joanne McCartney, Labour's London Assembly member for Police and Crime, said she was "deeply concerned".
"There is still confusion over the reasons behind the purchase of water cannon and exactly how the process of their deployment will work."
Greater Manchester's Police and Crime Commissioner Tony Lloyd said a "full public debate" was needed before water cannon was deployed on the street.
"No convincing argument has been made for their deployment. For example, they would have been useless during the last period of major disorder - the riots of 2011," said Mr Lloyd.
Related Internet Links
The BBC is not responsible for the content of external sites.