Moped gang in Dorchester Hotel smash and grab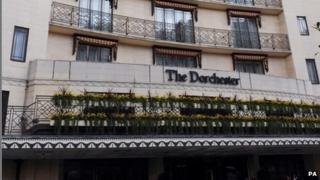 A gang of moped riders armed with sledge-hammers carried out a smash and grab at central London's exclusive Dorchester Hotel, police have said.
Three men from a group of six entered the Park Lane hotel's boutique and smashed jewellery and watch cabinets.
The group was disturbed by police at about 01:37 BST but escaped on three mopeds with some items.
The Met followed but lost the gang and came across a woman who had been hit by a moped at Cambridge Circus.
The 25-year-old was taken to hospital for treatment for leg injuries and has since been discharged.
Det Con of the Flying Squad Alex Flanagan said: "This was a well planned and thought through robbery and there may be people who know who is responsible.
"I am keen for those with any information, no matter how small, to come forward and assist us with our investigation."