Angle grinder gang thefts: Damage put at £109k caused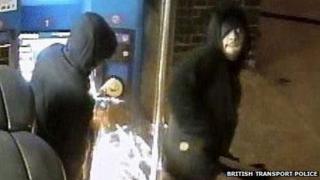 A gang who police say has caused damage put at £109,000 to ticket machines at railway stations in London and Hertfordshire is being sought.
Since April, machines at six stations have been targeted by a group using an angle grinder and a pickaxe.
British Transport Police (BTP) said the men had also stolen more than £3,000.
CCTV of three men BTP is keen to speak to about the thefts has been released and anyone who recognises the men is asked to contact the force.
Det Con Nick Thompson said: "The money stolen in these attacks really does pale into insignificance when you consider the cost of the damage - which is estimated as 33 times the value of the cash taken.
"These thefts haven't just hit the rail industry financially, they've also caused disruption and inconvenience to passengers."
He said the men had targeted small stations in the early hours when no staff were on duty and the last train had gone. On one occasion they attempted to disable the CCTV cameras.
The first reported incident took place just after midnight on 19 April, at Brookmans Park station, Hertfordshire. The gang broke open the front of the ticket machine and got away with £750 in cash and caused damage estimated at £23,000.
The last known attack was on 23 May at Welham Green station, where £850 was stolen and damage put at £7,000 caused.
The investigation is part of Operation Captivity which is focussed on tracking down criminals who target ticket vending machines at railway stations.