Kew Gardens job cuts petition to be handed in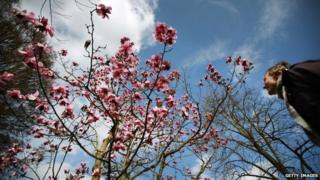 A petition, with almost 100,000 signatures, opposing plans to cut jobs at Kew Gardens is to be handed in to Downing Street.
It was started in a bid to save 125 jobs at Richmond which are threatened by spending cuts and a £5m deficit.
Members of both the GMB and Prospect unions oppose the cuts, which Kew said it hoped to achieve without compulsory redundancies.
Richmond MP Zac Goldsmith said it would be a "tragedy" if Kew's work suffered.
The Conservative MP said: "Kew Gardens is a national jewel and it would be a tragedy if its work and reputation were to suffer as a result of excessive cuts."
Previously GMB, which represents horticultural workers, claimed the cuts were breaking the law by preventing Kew from fulfilling its legal obligation as an educational and scientific resource but the Department for Environment, Food and Rural & Affairs (Defra) has refuted this.
Paul Grafton, GMB's regional officer, said: "The government needs to listen to the experts and restore Kew's funding to levels that will ensure the world's plant life remains protected now and for the future.
"The aim is to save globally important conservation and science under threat."
Some of the jobs under threat are at Wakehurst Place in West Sussex which is the base for Kew's Millennium Seed Bank Project.
In April, Kew's director Richard Deverell told the BBC: "We are going to have to reduce headcount quite significantly.
"Our aim is to do that while avoiding redundancies, certainly compulsory redundancies - although that may not be possible - and we'll certainly seek to make these changes through genuine efficiencies which will have minimum or zero impact both on the visitors and our scientific colleagues."