Trio prevented lawful burial in 'grave in garden' death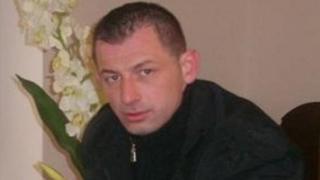 Three men have been convicted over the death of a Polish man found in a house in west London, where an empty grave was found in the garden.
The body of Zbigniew Michniewicz, 36, of Greenford Road, Greenford, was found inside the house on 5 December.
Piotr Juszczak, 21, and Arkadiusz Majchrazk, 45, were found guilty of conspiring to prevent the lawful burial of a body at Isleworth Crown Court.
Grzegorz Roznerski, 40, of Slough, had pleaded guilty to the charge in March.
Majchrazk was also found guilty of causing actual bodily harm to Mr Michniewicz. Majchrazk and Juszczak have no fixed address.
All three will be sentenced on 9 June.
Police said the victim, a labourer, and the defendants in the trial were all squatting in the house.
Mr Michniewicz had been assaulted in the property weeks before the body was found and a post-mortem examination showed he had several injuries, including fractures to his eye-socket, cheekbone and jaw.
A pathologist concluded drug abuse rather than assault injuries were the cause of death.
Officers also found a 5ft-deep grave in the back garden.
Following the verdicts, Det Ch Insp Noel McHugh said: "The selfishness of this crime is appalling.
"They planned to bury the body in the back garden rather than allowing Zbigniew Michniewicz a decent funeral and telling his family the truth about his death."
The jury cleared Kamila Ruszel, 18, of Marlborough Road, Southall, of conspiring to prevent the lawful and decent burial of a dead body without lawful excuse.
But jurors could not reach a verdict on Damian Gradzuik, 20, of Stanhope Park Road, Greenford, and Piotr Bochajczyk, 28, of The Crescent, Slough, on the same charge.