Two arrested in Tower Hamlets electoral fraud probe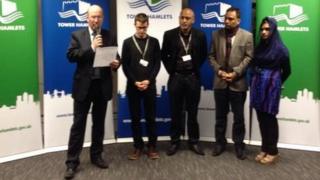 Two men have been arrested in connection with allegations of electoral fraud in Tower Hamlets.
The Met Police has received 84 complaints in relation to the local elections on 22 May, but they said in the majority of cases no criminal offences had been committed.
Officers are examining eight suspected incidents of electoral malpractice, they said.
The Electoral Commission has also launched a review into the count.
A 24-year-old man was arrested on suspicion of conspiracy to defraud in relation to postal vote applications on 3 June. He was released and is due to answer bail in July.
Eight investigations
A 38-year-old man was also arrested in Tower Hamlets in connection with an allegation of potentially false declarations on nomination forms on 13 May.
The eight investigations being carried out in Tower Hamlets include one allegation of failing to put a correct imprint on election literature, one of making a false statement about a candidate, four of false declarations on nomination papers and two relating to postal voting.
Tower Hamlets council said it welcomed the thoroughness of the police investigation.
The final outcome of the election in the east London borough was reached five days after polls closed.
The council attributed the delay to the mayoral and European elections being held together, a large turnout and recounts.
The Electoral Commission review, which will be published before 3 July, will look at allegations of voter intimidation and why the count took so long.
John Williams, the returning officer at Tower Hamlets Council, said: "We note that whilst 84 complaints have been referred to the police only eight of the complaints merit an investigation as in the majority of cases there is no evidence that any criminal offences have been committed."
Labour emerged as the largest party in Tower Hamlets with 20 seats after last month's election.
A by-election will be held on 3 July for Blackwall and Cubitt Town ward, which still needs to have three new councillors elected after polls were called off following the death of a candidate.