Mark Duggan death: Shooting 'not rigorously examined'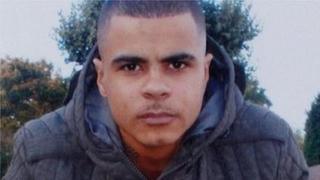 The coroner at the inquest into the death of Mark Duggan, who was shot dead by police in 2011, has published a series of "concerns" about the case.
Judge Keith Cutler said he was worried fatal police shootings were "not as rigorously examined as they could be and that doubts about the accuracy of police accounts are not minimised".
He also said officers meeting before making statements about the shooting "created a perception of collusion".
Mr Duggan, 29, was shot in Tottenham.
His death led to rioting in the area which was then replicated in towns and cities across England.
His family, who are seeking to overturn the inquest ruling that Mr Duggan was lawfully killed, welcomed the coroner's report.
Police intelligence 'hidden'
Judge Cutler's eight concerns are listed in his Report to Prevent Future Deaths, which coroners are entitled to provide at the end of inquest hearings in order for lessons to be learned.
The Metropolitan Police said it will "carefully consider" the report and added a number of changes have been introduced since 2011, including "a warning given to officers reminding them they should not confer".
The coroner's concerns included full witness statements not being taken from police for 48 hours after the shooting and police failing to capture on video the wider scene of the shooting.
He said police firearms officers should have had video cameras fitted to cars and added he still "expects to be told" why police black box equipment apparently did not record the fatal shooting.
He also stated the Independent Police Complaints Commission was not sufficiently resourced to conduct the investigation into the shooting.
He added he was concerned key police intelligence was hidden from the inquest jury.
A statement from the Met said: "The conferring warning is a warning given to officers reminding them they should not confer and if they do so they have to write down where, with whom, why, and on what subjects they conferred.
"They are also warned they must not confer on their own use of force. The post incident procedure is the nationally agreed procedure that takes place following a police shooting."
A senior officer now supervises the note writing phase of both initial and detailed accounts from officers and a trial of body worn video cameras will be rolled out to some firearms officers over July and August.
'Calm anxieties'
In a statement, Mr Duggan's relatives said: "The family is very pleased that the chief coroner agreed to publish this report as the importance of open justice is fundamental in this case and our justice system.
"There has we know been widespread profound public concern about the investigation and circumstances of Mark's death.
"Restoring confidence and accountability is of particular importance in a case such as this and the report goes some way to perhaps calm the anxieties of the public and family."
In January, an inquest jury concluded that Mark Duggan was unarmed when he was shot by a police firearms officer in north London in August 2011.
The jury decided the 29-year-old had thrown a gun over a fence before he was shot.
Mr Duggan's family will ask the High Court to overturn the inquest findings at a judicial review hearing next month.
The family claims the coroner's legal directions to the jury were flawed.