Rolf Harris groping claims 'ridiculous', brother says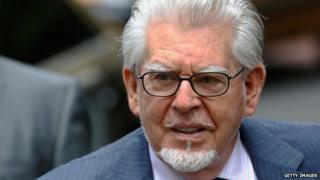 Allegations that Rolf Harris groped a make-up artist more than two dozen times have been dismissed as "ridiculous" by the star's brother.
Bruce Harris, 90, gave evidence at his brother's trial via videolink from Sydney, Australia.
Speaking about claims his sibling inappropriately touched a woman repeatedly on one day in the 1980s, Mr Harris said: "It never happened."
Rolf Harris denies 12 indecent assaults between 1968 and 1986.
The make-up artist, whom prosecutors have called as a supporting witness, previously told Southwark Crown Court that Rolf Harris had been nicknamed "the octopus".
'Not possible'
The woman was in her 20s at the time she says she was repeatedly assaulted while making a programme in Australia.
Bruce Harris told court: "That's ridiculous. He would never do that and I wouldn't let him do that, and he knew I wouldn't let him do that. That's just not possible."
Sitting as he gave evidence, he added: "I would have shouted at him, I would have demanded that he stopped. "
Bruce Harris also denied trying to influence another alleged victim, Tonya Lee.
Ms Lee, who has waived her right to anonymity, has claimed Rolf Harris assaulted her when she was on tour in the UK with an Australian youth theatre group.
'Protective'
Bruce Harris told court he had spoken to the artistic director of that group, Kathy Henkel, to find out if she had witnessed any assault.
He told jurors he "wasn't trying to get her to change her story" but instead "trying to see whether she could back up what this girl was saying".
"I'm protective of my brother and I also wanted to see if there was any truth to what was being said. I didn't believe it," he said.
Bruce Harris told the court he had become his brother's manager in 1981 and also took charge of his finances.
"Rolf has never shown any interest in the financial side of life," he told the jury.
The court also heard from Ken Jeacle, Rolf Harris's former tour manager who began working for him in the early 1980s.
He said his former client was "the highest-profile artist in the Australian variety scene" and his profile in his native country was "just indescribable".
The case continues on Thursday.