Man dies as car and night bus collide in east London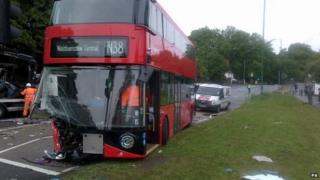 A man has died and 13 people have been injured, one of them critically, in a collision between a car and a bus in east London.
Police named the victim as Delano Moore, 25, from Chingford, east London.
He was in an Audi A4 with three other men, one of whom was severely injured in the collision with the N38 bus.
The accident happened at Lea Bridge Road, at its junction with Essex Wharf in Clapton, at about 02:20 BST, a police spokesman said.
Ambulance crews treated 10 other people who were passengers on the night bus which was travelling towards Whipps Cross. The crash took place close to the Lee Valley Ice Centre.
'Enormous thud'
The two men travelling in the back of the car are are in a serious but stable condition at an east London hospital, police added.
Arriva, which operated the bus, said the driver was treated in hospital after suffering cuts and bruises and was later released.
A number of the bus passengers were taken to hospital by another bus, but were described by police as walking wounded.
The car involved in the crash was believed to be travelling with or closely behind another vehicle along Lea Bridge Road, police said.
The force appealed for the second driver to contact police.
Resident Jenny Quested said she heard an "enormous metallic thud" at the time of the crash.
"I saw a bus come to a complete stop and a huge amount of ambulances and police and then the helicopter came," she said.
"It's a pretty long road and I am up in the middle of the night with my newborn so I hear a lot of speeding going on on this road."
A London Ambulance spokesman said 13 patients were treated, including three men, reported to be in their 20s, one for an arm injury, the second for a head injury and the third for an arm and head injury.
They were taken to the Royal London Hospital, as was a man reported to be in his 60s, who was treated for back pain at the same hospital.