Mayor's adviser: Vauxhall junction is 'one I hate most'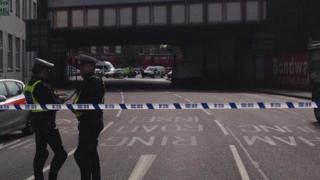 The junction where a cyclist was killed earlier is "genuinely dangerous" and "the one I hate most", London mayor's cycling commissioner has said.
A 52-year-old man, who has not been named, was killed in a collision with a lorry on Parry Street, Vauxhall at about 07:00 BST.
Transport for London (TfL) said he was the sixth cyclist to die in the capital this year.
The junction is due to be redesigned to improve safety for cyclists.
A TfL spokesman said safety remained a "key priority", and claimed upcoming changes to the junction as part of a wider improvement programme would "provide better facilities for all road users".
Andrew Gilligan, the London mayor's cycling commissioner, regularly cycles through the capital and told BBC London 94.9 that the junction at Vauxhall "is genuinely dangerous, and is unavoidable for thousands and thousands of cyclists".
He said the junction is "the one I hate the most", adding: "There is no other way, if you're coming from a large swathe of south London, you have to pass through Vauxhall, so that's why we're doing it first."
The junction is due to be converted to two-way traffic and include a 0.9-mile (1.4km) two-way segregated cycle track running from the Oval through Vauxhall and over Vauxhall Bridge to Pimlico.
'Jockey for position'
In response to the death, the London Cycling Campaign (LCC) called on Mayor Boris Johnson to fast-track the removal of the Vauxhall one-way system.
Ashok Sinha, chief executive of LCC, said: "Until Vauxhall junction is redesigned, then cyclists will continue to risk death and serious injury when cycling through this location, where they're forced to jockey for position with fast cars and heavy goods vehicles weaving across several lanes of traffic."
TfL said work on the junction should start in the autumn, subject to the outcome of a public consultation, and finish in the spring.
The changes will be made as part of a £300m project to re-model 33 dangerous road junctions originally designed in the 1960s.
More than 150 cyclists and pedestrians have been killed or seriously injured at these locations in the past three years, TfL said.
Gyratories at Archway, Aldgate, Swiss Cottage and Wandsworth, among other locations, will be removed and replaced with two-way roads, segregated cycle tracks and new traffic-free public spaces.
The Elephant and Castle roundabout, which has the highest number of cycle casualties in the capital, will also be redesigned.
In 2013 the number of road cycling deaths in London remained the same as the previous year at 14, although the number of serious injuries involving cyclists fell by 28%, TfL said.
The number of cycle journeys on London's main roads has nearly doubled in the past 10 years, TfL added.