Man jailed for life for revenge murder of Henry Stangroom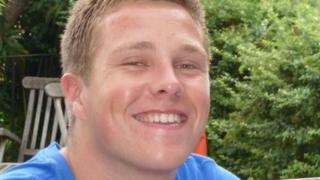 A man convicted of murdering his ex-girlfriend's brother in south-west London in revenge for her leaving him has been jailed for life.
Henry Stangroom, 21, was attacked in his sleep by Andrew Morris in October at the flat they shared in Battersea.
A chef at the Criterion, Piccadilly Circus, Mr Stangroom was stabbed in the heart and lungs and also had a head injury caused by a harpoon spear.
Morris, 30, was jailed for a minimum of 23 years at the Old Bailey.
The killer, who worked as a financier in the City, had been in a relationship with the chef's sister until about six weeks before the murder.
All three had lived together at a flat in Lavender Sweep, but Miss Stangroom had recently moved out, the trial heard.
Det Ch Insp Diane Tudway said: "Andrew Morris killed Henry Stangroom in a brutal attack because he felt rejected and because he could not come to terms with that.
"He has not taken responsibility for his actions and shown no genuine remorse."