Call for 'safe houses' for young people fleeing violence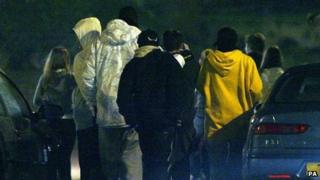 Young people wanting to flee violence could go to "safe houses" under a plan by London Conservatives.
The scheme would see "Block Parents" open up their homes to allow children to go to if they are in trouble.
The report says they could be used by those being bullied, mugged, followed or attacked and would discourage gangs and child abusers.
But Barry Mizen, who runs a similar scheme, says there is no need to set up a new community project.
The report, "Home Safe Home" by Tory London Assembly member Andrew Boff , says there were more than 22,000 cases of youth violence and 71,000 reports of anti-social behaviour in two years in London.
It proposes setting up a pilot in five areas.
The homes would be identified by adhesive window signs and placards with serial numbers and watermarks, so they could not be replicated or stolen.
Citizen patrols
Mr Boff said: "Far too many of our children are victims of senseless violence."
He added: "The cost to the public purse is minimal, as demonstrated in Canada, where the bulk of the small cost of recruiting volunteers and producing signage is met by businesses."
But Mr Mizen, who runs the CitySafe scheme which sees shops and businesses open for those in trouble, said: "What they are trying to achieve is wonderful but it's just an extension of CitySafe.
"We did consider using private houses but we decided it was a step too far."
The report also calls for citizen patrols, such as Neighbourhood Watch, and street pastors, to work with safe houses and police.
Stephen Greenhalgh, deputy mayor for policing and crime, said: "The police need the public to step up and support them and we want to see more of these active citizen schemes across London."