Tower Hamlets Council ballot count resumes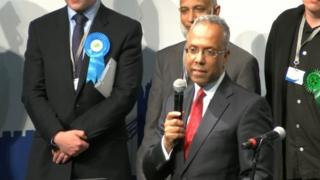 Counting has resumed in the east London borough of Tower Hamlets to establish the political make-up of the council's chamber.
Counting was suspended on Saturday morning after the processing of ballots for the executive mayor ran over.
Lutfur Rahman of Tower Hamlets First was elected as mayor.
His party had won 15 seats to Labour's nine when counting was suspended on Saturday. Six wards need to be re-counted because of the close margins.
Tower Hamlets is the last borough to declare the council election results following Thursday's vote.
Since 2010, it has been run by an executive mayor and a cabinet of councillors, plus a chamber.
A spokesman said the returning officer made the decision to suspend counting after officers had spent 24 hours processing ballots at Troxy theatre.
The re-count and the European Election count have been moved to Mile End Leisure Centre.
Meanwhile, in Barnet, in the ward of Colindale where a Green Party candidate died, the new councillors will be decided following a vote on Thursday as required by electoral law.