Housing Association backs down over sale price rises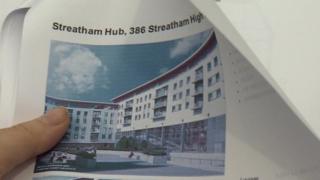 A housing association has backed down over plans to raise the price of flats in south London by up to 56%.
About 30 people who had put down deposits in Streatham through a shared-ownership scheme said Wandle had doubled the cost of the homes, making them unaffordable.
They had been due to move at the end of the month.
Wandle has now said despite the higher valuations to the flats, the sales will go through at the original prices.
Some of the homes saw their value increase by up to £150,000 - an increase of 56% - after they were revaluated following construction delays.
Sergio Santos said: "I received a letter from Wandle Housing Association saying that my flat which in December cost £255,000 will now cost £337,750 based on desktop evaluations if the building is finished in July or August."
He said it had been "shocking news" for him and other buyers.
Ben Rudkin said it had left him and at least several other people "more or less homeless".
In a statement, Wandle said it had worked with the Greater London Authority to find a resolution.
"During the period following reservation and holding deposits being received, there were significant changes in the London property market which are beyond our control.
"We are very sorry for the uncertainty this situation has caused to our prospective purchasers this week.
"We remain committed to ensuring that all of those involved will still be able to proceed with the purchase of their new homes."