Jamil Palmer stabbing: Fifth teenager charged with murder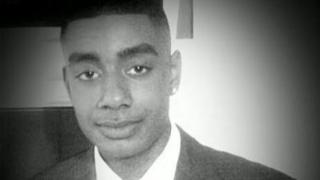 A 17-year-old has become the fifth youth to be charged with the murder of Jamil Palmer.
Jamil, 18, was stabbed to death in a west London park on 6 May. He was found slumped near Evans Grove in Feltham but died later in hospital.
The 17-year-old was charged earlier and remanded in custody. He is due to appear before Uxbridge magistrates on Friday.
Two teenagers aged 15, and two others aged 16 have already been charged.
None of the accused can be named because of their ages.
Police continue to offer a £15,000 reward for information which may lead to the arrest and prosecution over Jamil's death.