Lee Rigby murder: Woolwich tributes to soldier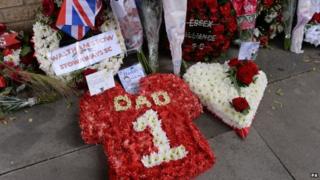 The widow of Fusilier Lee Rigby broke down as she and the soldier's mother visited the scene of his murder in south-east London to lay wreaths.
Hundreds of bikers joined a tribute to the 25-year-old killed in public near Woolwich Barracks a year ago.
A memorial service at the barracks was led by the Rector of Woolwich and included a message from the fusilier's mother, Lyn Rigby.
Two British Muslim converts were jailed for life in February for the murder.
Michael Adebolajo, 29, and Michael Adebowale, 22, drove a car into into Fusilier Rigby before hacking him to death. Adebolajo was given a whole-life term and Adebowale was jailed for 45 years.
In an interview on ITV Mrs Rigby said: "I will never forgive them for what they did to Lee. Never."
Rebecca Rigby laid two wreaths in her husband's memory. One was a tribute from his son Jack and was in the shape of a red football shirt marked "Dad 1".
'Extraordinary response'
Bikers, including current and former British military personnel, gathered at Greenwich Park before riding past the scene of the murder and up to the barracks' parade ground, from where they marched to the main gates for the ceremony.
Among those gathered was Ingrid Loyau-Kennett, one of three women dubbed the "Angels of Woolwich" who confronted the killers and stood by the soldier on the day.
Mrs Loyau-Kennett, who challenged Adebowale, said: "It has been a waste of three lives and of course a year on I still think about Lee Rigby's mother losing a son, it's a tragedy.
"I don't have flashbacks but I have been very emotional lately. This street looks like a normal street now but I can still see the body, see the crashed car and see the bloodied hands."
Organiser of the ride Julia Stevenson said: "The Lee Rigby ride is about a single soldier brutally cut down, not on the battlefield but on the streets of London."
A few lines from Lyn Rigby were read at the service in memory of her son, of Middleton in Greater Manchester.
In a statement, Home Secretary Theresa May said: "We shall never forget the appalling crime which was committed so publicly in Woolwich a year ago and our thoughts must go to Lee Rigby's loved ones on this very difficult day.
"The entire country united to condemn his death and the murderous ideology his killers espoused."
London Mayor Boris Johnson said: "No family deserves the shock and pain they have faced.
"We also remember the extraordinary response of the city on that day; the members of the public who went to comfort the dying man, like Amanda Donnelly and her daughter Gemini.
"We salute again the fearlessness of Ingrid Loyau-Kennau who stood up to armed killers and told them what she thought of them."
Chairman of the Home Affairs Select Committee Keith Vaz praised the soldier's family for their "utmost dignity and humility during an incomprehensibly difficult year".