London paramedic exams cheating claim investigated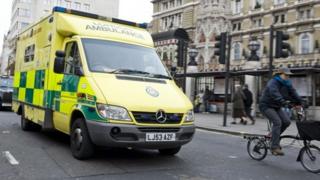 Almost half of the paramedics working in the London Ambulance Service (LAS) could be investigated after allegations of widespread cheating in exams.
BBC London has learned 850 people who qualified over a four-year period may have had access to the final exam paper before sitting the test.
The LAS has suspended all exams and an independent investigation is under way.
LAS has said all paramedics working in London are fully trained and continually assessed while on the job.
'Shocked and disappointed'
The service received an anonymous allegation on 9 May saying student paramedics had had access to exam papers before in-house final exams taken between 2008 and 2012.
The first student would have qualified in 2011.
Chief executive Ann Radmore said: "I was shocked and disappointed to hear this anonymous allegation and will not tolerate any form of cheating."
She said she had commissioned an investigation and appointed an independent clinical expert "to recommend any immediate action we need to take to reassure Londoners about our standards of clinical care".
She added: "The great majority of our staff are not implicated in this allegation."
LAS said the majority of students now trained on degree courses at university.
The service has 5,000 staff members - 1,700 of them paramedics.
The allegation affects 850 staff members who qualified over the timeframe.
Two hundred have since left, so 650 are working in London today.
A spokeswoman for the Health and Care Professions Council, which issues paramedic licences, said it had been made aware of a "potential issue" surrounding the exam process.
A spokeswoman said: "We will remain in contact with the LAS.
"We are taking the matter very seriously and will take any necessary action as appropriate."