Ernest Jones raid: Suspect's selfie left at crime scene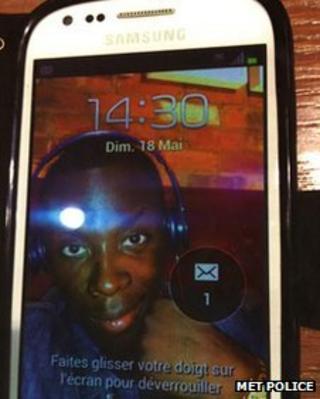 A suspected thief behind a jewellery store raid which saw £18,000 worth of goods taken left his phone with his picture on it at the crime scene.
Police are hunting for a man who ran off with a number of rings from the the Ernest Jones shop in Kingston, south-west London, on 18 May.
But he is thought to have left his mobile on the counter which had his photo as a screensaver.
Detectives have identified him as French national Germain Ibrahim Fofana.
Mr Fofana, 27, and a woman pushing a buggy entered the store asking to look at engagement rings.
They left the shop but Mr Fofana is thought to have returned about 30 minutes later asking again to look at two engagement rings and a wedding band.
After the shop assistant handed them over, the man ran out but left behind his bag with his phone in it.
When the police were at the shop, it lit up when it received a text message and showed his picture as the background.
The shop assistant who served him identified him as the person who ran off with the rings.
Mr Fofana, a French national, is also wanted for questioning over robbery and burglary offences across London.
He is about 5ft 7ins tall, slim, with short black hair and a French accent.
The suspect was last seen wearing a light blue shirt, grey suit trousers and boating shoes.