Twitter 'troll sent rape threats to MP Stella Creasy'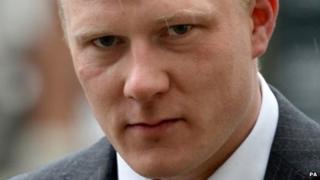 A Twitter "troll" bombarded a Labour MP with abusive messages after she supported a feminist campaign, a court has heard.
Peter Nunn, 33, retweeted "menacing" messages threatening to rape Walthamstow MP Stella Creasy, Westminster Magistrates' Court heard.
The court heard he sent the posts after the Bank of England said Jane Austen would feature on the new £10 note.
Mr Nunn of Emersons Green, Bristol, denies the charge.
Alison Morgan, prosecuting, told the court that Mr Nunn "embarked on a campaign of hatred in various different forms" against Ms Creasy and feminist Caroline Criado-Perez, who had launched the campaign to keep a woman on a British bank note.
He is alleged to have sent a barrage of messages branding the MP an "evil witch" and talking about the "best way to rape a witch" over a number of days and from several Twitter accounts.
Ms Morgan said: "It is not alleged that he created the text and the threat but, for whatever reason, he chose to retweet it and it is a message that is menacing in character."
'Hatred towards the women'
The court heard that Mr Nunn, a self-styled blogger, also left offensive blog posts in which he branded the campaigners "witches" and mocked them, although the blog entries do not form part of the criminal charge.
Ms Morgan said: "The background is that he appears to have formed a hatred towards the women expressing themselves on Twitter."
Mr Nunn was arrested at his home on 7 August after Ms Creasy and Ms Criado-Perez reported the abuse.
When questioned by police, he denied using Twitter to advocate violence or rape but admitted he had retweeted messages that were violent "to further debate".
Mr Nunn denies sending a message that was grossly offensive or of an indecent, obscene or menacing character by a public electronic network.
The case was adjourned until 2 September when it will resume for a day's hearing at City of London Magistrates' Court.
The defence team is planning to obtain medical evidence to ascertain whether Mr Nunn is suffering from an autistic disorder.
Mr Nunn was released on conditional bail.