Flat fire man 'had been stabbed'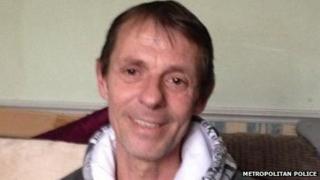 The death of a man whose body was found after a fire at a flat in north London is being treated as murder.
The body of Antonio James Tommaso was found after firefighters were called to the flat at Sheridan Lodge, Potters Road, in New Barnet, at 19:30 BST on Thursday.
Initially, the death was not thought to be suspicious, but a post-mortem test found he died of multiple stab wounds.
Police believe the killer returned to the flat and set fire to the property.
Mr Tommaso had been dead for two to three days prior to the flat being set alight, tests showed.
Police said a red petrol can was also found at the scene.
Det Ch Insp Glen Lloyd said: "We would like to hear from everyone who knew Mr Tommaso to build an understanding of who he was.
"Who did he socialise with? Who would he be seen with?
"Mr Tommaso would have been known locally, frequenting the New Barnet area, especially around Potters Road often riding his bike."