Sunshade for Walkie-Talkie skyscraper glare problem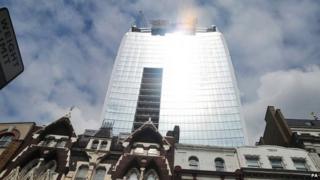 A permanent sunshade will be attached to London's "Walkie-Talkie" skyscraper to prevent reflected sunlight from damaging nearby properties.
Last summer, the glare from the 37-floor skyscraper at 20 Fenchurch Street melted parked vehicles and damaged shops in the City of London.
Developer Land Securities said it has received planning permission to install a "brise soleil" sunshade.
It will replace the temporary system put up last year after complaints.
The work is expected to begin later this month.
In its financial results for 2013, the developer said: "A solar glare issue drew attention to the building for the wrong reasons.
"Our brise soleil solution has gained planning approval and installation will start shortly.
"It will not interfere with the customer fit-out or occupation. The cost involved has not altered our original estimated total cost of the building."
In September, while the £200m building was still under construction, business owners in Eastcheap said the Rafael Vinoly designed skyscraper had blistered paintwork, caused tiles to smash and singed fabric and doormats.
The scorching glare and heat also damaged parked vehicles, including a Jaguar, melting its wing mirror, panels and Jaguar badge.
Land Securities and Canary Wharf paid out about £1,000 in compensation to the car's owner and installed a temporary screen on the building.