Egypt pool death girl's family wait for inquiry answers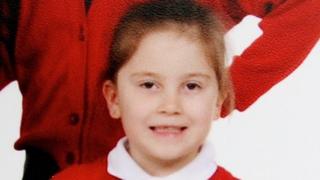 The family of a five-year-old girl who drowned in a hotel pool in Egypt have said they cannot get "closure" until an investigation in the country finishes.
Chloe Johnson, from south-east London, died on 17 May 2013 while on holiday in the resort of Sharm el-Sheikh.
Her grandmother April Johnson said they have had "no feedback about what is happening in Egypt" and an inquest here cannot progress until the probe ends.
"We'd like to know that it is still being looked into," Mrs Johnson said.
In a television interview following Chloe's death, her father Tony Johnson, 44, and mother Sarah Thompson, 33, of Forest Hill, said there were no lifeguards or any professional help on hand and it was Mr Johnson who tried to resuscitate his daughter when she was found at Coral Sea Waterworld Hotel.
Chloe's grandmother, from Welling, said: "We cannot ever forget her and it is awful. It needs to be settled to get some sort of closure on this issue.
"We've had no feedback about what is happening in Egypt. Nobody has invited us to help with the investigation and we haven't heard anything from whoever is investigating since Tony was interviewed after this happened.
"He has talked to staff of the Southwark coroner and they say nothing can happen here until the investigation has been completed in Egypt."
She said the coroner's staff told her son that it might take up up to 16 months or longer.
"We also want people to be aware of the dangers and to make sure there are lifeguards at these resorts," she added.
Travel company First Choice said: "First Choice has been offering the family support since this tragic incident occurred.
"First Choice is fully cooperating with the coroner and it would be inappropriate for us to comment further."
Sharm el-Sheikh is one of the most popular Red Sea holiday destinations and the Coral Sea Waterworld resort, located on a beach in Nabq Bay, opened in May last year.