Robbery at Barclays Bank flagship branch at Piccadilly Circus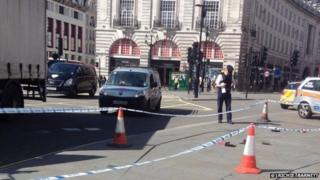 A robbery has taken place at Barclays bank's central London flagship branch.
Cash was taken from the bank, on Regent Street, at Piccadilly Circus at 09:35 BST, the Metropolitan Police said.
A force spokesman said officers were called to reports of "an aggressive man at the bank". No arrests have been made and no weapon was seen or used.
"The man has stolen a quantity of money from the bank and then made off before police arrived," the spokesman added.
One eyewitness posted photos on Twitter of the scene showing cash holders covered in red dye scattered on the ground outside Barclays.
Richard Barnett tweeted: "Some idiot has tried robbing Barclays Bank next door to my job, left coin trays on pavement..."
David Marsden-Sainou tweeted: "Absolute chaos in Piccadilly... Someone actually just tried to rob Barclays Bank?! Dropped the loot on the way out! #BankRobbery"
No-one was injured during the robbery. The bank reopened at about 15:00.
A Barclays spokesman said: "We apologise to customers for the inconvenience caused."