Suicide pact wife avoids prison over husband's killing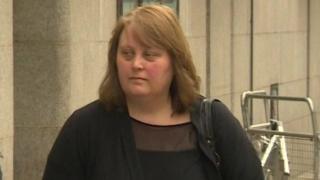 A wife who killed her husband in a botched suicide pact has been given an 18-month suspended prison sentence.
Ann Pollen, 47, from Edmonton, north London, was sentenced at the Old Bailey after admitting manslaughter.
The suicide pact was the idea of her husband Leonard, 58, after he was arrested over an allegation of historical child sex abuse, the court heard.
The couple took pills and alcohol and slashed each other's wrists.
Mr Pollen's family said they had felt the "pain and loss" of his death and have been put through a "living hell".
'Truly tragic case'
His sister Janice Malt made the statement on behalf of the family, which was read to the court.
"It felt like someone had ripped the heart out of our family," she said.
"His life was taken by the one person he believed was his soul mate and best friend."
Pollen did not attend her husband's funeral, and the family said: "We feel these are not the actions of a loving, devoted wife."
Sentencing Pollen to 18 months' imprisonment, suspended for two years, the judge Peter Rook QC described it as "a truly tragic case".
He told Pollen: "You know that this terrible suicide pact has led to your husband's untimely death.
"His family have been devastated and had difficulty coming to terms with their tragic loss and the way he died."
'Both of us'
But he said the case was "wholly exceptional" which was why he had decided against jailing her.
The court heard "submissive" and "vulnerable" Pollen agreed to the death pact with her husband after he was arrested in 2012.
In a last will and testament, he wrote: "I have decided to commit suicide and Ann has agreed to join me."
Paramedics alerted by concerned relatives found Pollen hurt but conscious with her husband's body nearby.
She was later charged with murder and an alternative charge of manslaughter between 29 August and 4 September 2012.
The court heard that as she was charged, she responded: "We were supposed to commit suicide. I did it to both of us."
The suicide pact was said to be Mr Pollen's idea, sparked by his worries about the arrest, and his wife agreed because she could not bear to be without him, the court heard.
Pollen entered a guilty plea to manslaughter after the Crown decided not to pursue the murder charge.