Usain Bolt tweets over running shoes stolen in Croydon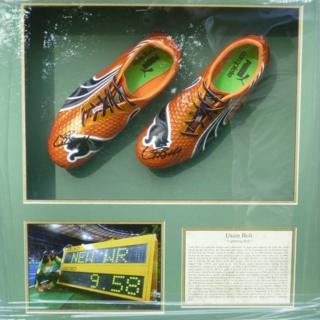 Olympic champion Usain Bolt has tweeted his 3.3 million followers after running shoes he signed were stolen in Croydon.
The orange Puma shoes, worth about £20,000, were framed with a photo of the six-time Olympic gold medallist.
Scotland Yard said the items were taken from an industrial site on Gloucester Road, Croydon, between 26-28 April.
The athlete tweeted: "I know u love me..but please why u had to go stealing that signed Usain Bolt spikes ..I know u going to return it. Right?"
The Jamaican sprinter later said he would be sending a new signed pair.
He tweeted: "Only natural I sign sum spikes after one of my overly excited fan stole that one..FedEx straight to London later."
Anyone with information has been urged to contact police.