Last-ditch talks to avert Tube strike begin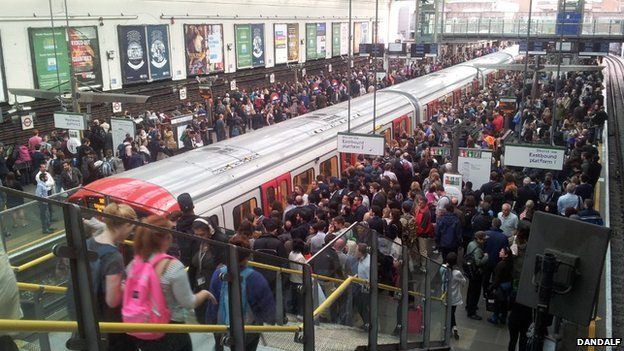 Last-ditch talks to try to avert a three-day strike by Tube workers in London are being held.
London Underground and the RMT union are meeting hours before the walkout is due to start at 21:00 BST. Talks begun at 10:00 BST.
Conciliation service Acas called Monday's talks in the dispute over LU's plan to close all ticket offices and cut 960 jobs.
A 48-hour strike last week caused considerable transport disruption.
On Monday morning, BBC London transport correspondent Tom Edwards tweeted: "Sources telling me #tubestrike likely to be suspended. Enough movement. @acasorguk talks later. Decision would be made by RMT Exec."
The last set of talks broke down on Friday after apparently being close to a deal. The union said LU had then demanded the whole dispute rather than just the strike be called off, while LU accused the union of failing to offer a "credible alternative" to its proposals.
Transport for London needs to save £4.2bn by 2020, and hopes to save £50m a year by closing ticket offices and cutting jobs.
The plans are thought not to include any compulsory redundancies.
In a statement on Sunday, Acas confirmed that it had invited the chief operating officer of London Underground and the acting general secretary of RMT to attend a meeting at its offices on Monday morning, and both accepted the invitation.
The two sides have met more than 40 times through Acas since a strike back in February.