Babafemi Junaid stabbing: Fifth man charged with murder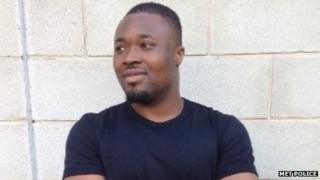 A fifth person has been charged with the murder of a man who was found stabbed in a car which had collided with a bus in south London.
Babafemi Junaid, 22, was found with a stab wound to the heart, near Stockwell Tube station, on 7 February.
Christopher Munsaka, 19, of Vauxhall, was charged on Saturday morning and is due to appear at Camberwell Green Magistrates Court.
The four other people charged are aged 23, 18 and two 17-year-olds.