Tube strike to go ahead after London Underground talks fail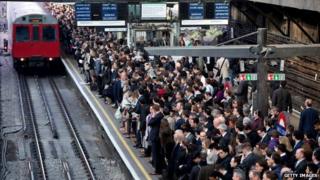 A three-day Tube strike is set to go ahead after talks broke down between London Underground and the Rail, Maritime and Transport (RMT) union.
Members will go on strike for 72 hours from 21:00 BST on 5 May over plans to close ticket offices and cut 960 jobs.
Talks were held at the conciliation service Acas on Friday.
Mick Cash, from the RMT, said he was "angry" talks had broken down, while Mayor Boris Johnson said London was "being held to ransom" by the union.
Mr Johnson said the RMT union was "digging in its heels and refusing to play its part in shaping the future of the Tube", while London Underground said it was "disappointed" with the outcome.
'Victorian era'
The strike comes after Transport for London (TfL) proposed closing all ticket offices - which would lead to 960 job losses - and save £50m a year.
RMT members staged a 48-hour walkout this week.
The union said it had offered to suspend the latest strike action if London Underground had agreed to a public consultation over the plans, which are thought not to include any compulsory redundancies.
An Acas spokesman said the talks - which had begun at 10:00 BST - were adjourned at 18:15.
Mr Johnson said he was "baffled" by the planned strike, saying 3% of Tube journeys involve a visit to "Victorian-era ticket offices", which he said costs Londoners £50m a year to run.
"It makes absolutely no sense to keep them open. Our plans will see more staff available in the public areas of stations - at ticket machines, gate lines and platforms - meaning that face to face customer service and the ability to help people will be enhanced not reduced," he said.
He added: "I am therefore baffled - as I am sure many Londoners are - as to why the RMT leadership has chosen to force its members - seven in 10 of whom didn't support industrial action - out on strike yet again."
However, RMT acting general secretary Mr Cash said negotiators for the union had worked "flat out" to try and reach an agreement, adding that he was "angry and bitterly disappointed" by the breakdown.
'Politically motivated'
He accused London Underground of having thrown "a hand grenade" into the negotiations by demanding an end to the dispute.
"It is a cynical and politically motivated move that means that avoidable action now goes ahead as our members continue the fight for jobs, services and safety," he said.
Earlier, John Leach, from the RMT, said: "They have not taken up our offer and they've spent eight hours talking about very little. Regrettably the strike is still on."
Phil Hufton, London Underground's chief operating officer, said the union was "intent on inflicting" further disruption on Londoners.
He also accused the RMT's leadership of failing to offer a "credible alternative" to the proposals.
"Despite our offer to continue talking, their interest seems to be in preserving the past and forcing London's fare and tax payers to foot the bill," he said.
The RMT and London Underground have met more than 40 times through Acas since a previous 48-hour strike was held in February.