Head teacher Jo Shuter admits expenses misconduct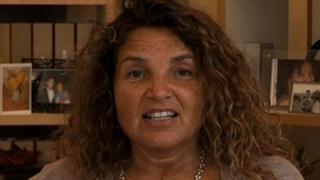 A former academy head teacher faces being struck off over a string of expenses abuses, including charging the school £7,000 for her birthday party.
The teaching regulator found Jo Shuter guilty of unacceptable professional conduct at Quintin Kynaston Community Academy in St John's Wood, London.
Abuses included charging the school for furniture and "widespread" personal use of academy taxi accounts.
Ms Shuter resigned last year after 11 years at the school.
Extensive expenses
The National College for Teaching and Leadership brought the hearing after a government report found Ms Shuter, credited with turning the school around, had presided over the misuse of public funds.
She admitted unacceptable professional conduct and a decision is now due about whether she will be banned for life from teaching unsupervised in England.
Ms Shuter admitted:
Claiming her 50th birthday party expenditure of £7,000 from the academy
Claiming £8,269 for an overnight stay at the Grove Hotel in Chandlers Cross for her leadership team
Charging the school for furniture worth £1,500 delivered to her home
Making extensive expenses claims over a significant period for personal gain, including mobile phone contracts for herself and her children
Instructing her PA to book flights and arrange the rental of her holiday home on school time, and organise her consultancy engagements
Taking on extra paid work for speaking at conferences and consultancy during term time
Claiming for travel expenses she had already been reimbursed for by someone else
Claiming for taxi journeys not made on school business
The panel found she breached teachers' standards, failed to show high standards of personal and professional conduct and breached the school's code of conduct and Westminster City Council's rules on financing schools.
The panel said it had taken into account the "significant length of time" over which the abuses had occurred, the amounts of money and Ms Shuter's position as a role model.
The regulator added the panel was mindful allegations did not "refer to dishonesty or fraud".
'Outstanding' rating
Westminster City Council, which ran the school until 2008 when it became a foundation school, said it referred Ms Shuter to the National College for Teaching and Leadership after an investigation by the governors and the Department for Education.
Head of children's services Andrew Christie said: "We felt that this matter was too serious not to take it any further.
"We expect very high standards from teachers and head teachers in Westminster. We also believe we have a duty of care for standards in the teaching profession as a whole."
Ms Shuter was named head teacher of the year at the 2007 Teaching Awards and appointed CBE in June 2010.
In 2011 when it became an academy, Ofsted rated Quintin Kynaston "outstanding".
In 2012, following investigations, the school was ordered to improve its financial management by the Education Funding Agency.
This had since been lifted following "recovery of funds" and "improved audit processes", the agency said.
Last year the Metropolitan Police said an allegation of fraud/false accounting had been made.
A spokesman said the allegation continues to be investigated.