London May Day dedication to Tony Benn and Bob Crow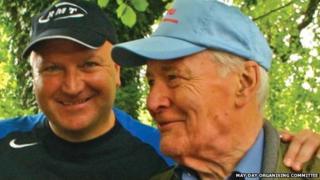 A march and rally are being held in central London to mark May Day and commemorate the socialist stalwarts Tony Benn and Bob Crow.
The march started at 13:00 BST at Clerkenwell Green and has reached Trafalgar Square.
The union Unite said trade unionists, pensioners, students and political bodies had come together.
Rail Maritime and Transport union leader Bob Crow died aged 52 on 11 March; Mr Benn died three days later.
The former cabinet minister and veteran left-wing campaigner was aged 88.
The London May Day Organising Committee said it was paying "special honour to our two lost comrades [who] were staunch supporters of our May Day."
Tony Lennon, chief steward of the committee, said: "This year's London May Day presents a huge opportunity for the trade unions and the community to both pay tribute to the massive contribution made by Bob Crow and Tony Benn to the fight for workers' rights, and to send out a clear message that the battle goes on."
BBC London's Marc Ashdown, who is at the march, said the unions told him more than 10,000 people had attended.